$995 – 48 Contact Hours
$50 Early Bird Rebate – Register 20 days before start dates
NEW: We now offer our foundation Power Package with PV201. By signing up for our PV201 5-day workshop, you get 60-day access to our online foundation class, PV201e at no additional charge.
PV201 is a 5-day workshop at our regional solar field lab in Austin Texas. A blend of classroom and instructor led labs along with the addition of sixty day access to our online PV201e course give you a foundation of understanding for any job in the solar industry.
See what our students have to say.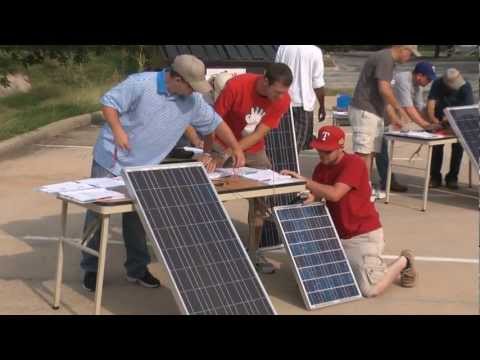 12 hours is dedicated to hands-on labs and includes constructing and commissioning a complete grid-tied PV system.
This course is based on the NABCEP (North American Board of Certified Energy Practitioners) Task Analysis and Learning Objectives. After completing PV201, participants are eligible to sit for NABCEP's Entry Level Exam.
Want to start PV201 today and train at your own pace? Consider PV201e online. Combine it with our one day, on-site PV201eLAB for the full classroom and lab experience, but available today and on your schedule.
Who is this class for?
No matter what your experience or background may be, you can use what you learn in PV201 to launch your career in the solar PV industry.
Home Owners, Business Owners, and Facility Managers
Contractors, Builders, and Remodelers
Electricians and those skilled in electrical construction
Engineers and Architects
Entrepreneurs, Sales & Marketing professionals
Everyone else who want to become solar industry professionals
Classroom Instruction Topics
The Photovoltaic Industry and Solar Professional
Basics of Electricity
The Solar Resource
Site Assessments
Safety and Tools for the Solar Professional
System Components and Configurations
Cells, Modules, and Arrays
Batteries and Charge Controllers
Inverters: Types and Specifications
System Sizing and Design
Mechanical Integration
Electrical Integration
Utility Interconnection
System Installation and Commissioning
Performance and Troubleshooting
Hands-on Instruction
Students will get a chance to commission PV systems in our regional field lab. Our hands-on training is conducted in small groups to ensure concepts are grasped. (Note: This video on the right is from PV321 but we like it so much we are showing it here too). PV201 labs and hands-on instruction includes:
Solar PV Module Lab: Crystalline Silicon, Amorphous Silicon, and Copper Indium Gallium Diselenide Modules (HelioVolt)
Safety, Meters, and Tools
Site Assessment with the Solar Pathfinder and the Solmetric SunEye
Grid-Tied Solar PV Installation on Slanted Rooftop
Off-Grid Battery-based PV System Installation, Ground-Mounted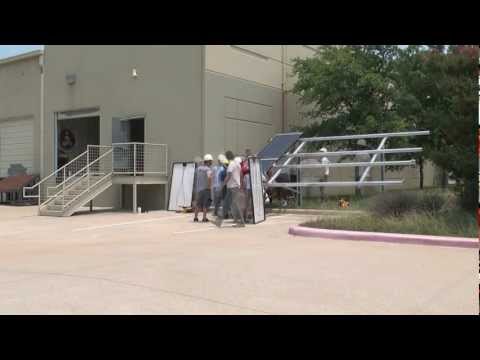 About Our Instructors and Facility
ImagineSolar has trained thousands of individuals who have gone on to be an integral part of the solar industry. Our instructors teach best practices using the most current technologies and methods. Our course instruction is continuously updated with the latest equipment as the solar industry expands and evolves.
Included in Price
Sixty-day access to PV201e, ImagineSolar's online foundation course ($695 value)
ImagineSolar Workbook
All lab fees and free parking
ImagineSolar Cap
Purchased Separately
Textbook: Photovoltaic Systems by Jim Dunlop, Published by American Technical Publishers: Purchase from Amazon
NABCEP Entry Level Exam
After completing this course, you will be eligible to sit for the NABCEP Entry Level Exam. You may take the exam with ImagineSolar or at any one of the many computer-based exam centers across the USA. Purchase the NABCEP Entry Level Exam.
Upcoming PV201 Course Schedule
Early Bird Rebate Incentive: A $50 rebate will be applied to those registrations completed 20 days before the event.
Doesn't fit your schedule?  Live outside of Austin?  Start your training today with our online course PV201e.
No course dates above?Join Waiting List
"ImagineSolar instructors: Thanks for your hard work this week with our solar class.  Each of you helped our local understand the benefits and importance of solar energy!  You made it fun to learn PV!  Your patience and upbeat attitude with each of us was very kind.  Your love of teaching solar energy has an energy all its own!  Whatever level we are able to work with PV we will always be grateful to our instructors at ImagineSolar for having introduced us to the PV industry.  Your new friends, David C. Etter and all the Brothers from Local #20, I.B.E.W."–David Etter, Dallas, Texas
There was no time wasted. Every moment was spent on useful topics.–Christopher Langham