$695 – 60 Contact Hours
Start training today!
Our online 60-hour PV201e course is designed to provide you with the knowledge you need to launch or accelerate your career in the fast-growing solar industry. You will gain an in-depth understanding of PV systems essential for virtually any role in the solar industry;
This course is based on the NABCEP (North American Board of Certified Energy Practitioners) Entry Exam Learning Objectives and the Task Analysis for the PV Installation Professional Exam. After completing PV201, participants are eligible to sit for NABCEP's Entry Level Exam.
Our live instructor support system gives you access to expertise while you are taking the course;
ImagineSolar instructors are experienced solar industry professionals with design, installation, and engineering backgrounds;  certifications include NABCEP and ISPQ;
PV201e has both quizzes (more than 150 questions) and exam problem sets (more than 140 exam problems) with immediate feedback and grading;
The exam problem sets are similar to what you can expect on solar certification exams;
Course includes downloadable materials for offline study;
Course includes several webinars, animations, and videos;
Webinars include the following:
Utility-Scale PV: The Path to Grid Parity -  an introduction to the unique opportunities and challenges involved with utility-scale PV project costs.
Solar PV Economics -  financial and cost assessment models for solar PV.
Soft Costs of Solar Photovoltaics -  soft costs associated with solar PV systems to fully prepare listeners for all costs involved.
To gain hands-on experience that complements this online instruction, enroll in our one day PV201eLab which takes place in our state-of-the-art solar field lab. You can enroll in PV201e and PV201eLab in either order.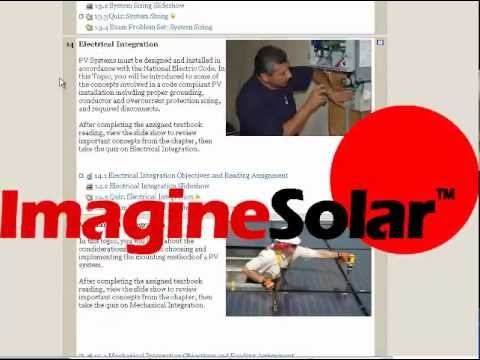 Introduction to PV201e
Who is this class for?
No matter what your experience or background may be, you can use what you learn in PV201e to launch your career in the solar PV industry or to determine if an investment in solar is right for your property. This course is designed for:
Home Owners, Business Owners, and Facility Managers
Electricians, Engineers, and Architects
Entrepreneurs, Sales & Marketing professionals
Contractors, Builders, and Remodelers
All other who want to become solar industry professionals
Instruction Topics
The Photovoltaic Industry and the Qualified Solar Pro
Basics of Electricity
The Solar Resource
Site Assessments
Tools for the Solar Professional
System Components and Configurations
Cells, Modules, and Arrays
Batteries and Charge Controllers
Inverters: Types and Specifications
System Sizing and Design
Mechanical Integration
Electrical Integration
Utility Interconnection
System Installation and Commissioning
Performance and Troubleshooting
About Our Instructors and Facility
ImagineSolar has trained thousands of individuals who have gone on to be an integral part of the solar industry. Our instructors teach best practices using the most current technologies and methods for the solar industry. They take the time to make sure each student is grasping presented concepts. In addition, our course instruction is continuously updated with the latest advancements as the fast-paced solar industry expands and evolves.
Instructional Material Provided
Textbook: Photovoltaic Systems by Jim Dunlop from American Technical Publishers.
CD-ROM of resource material. Includes Quick Quizzes®, Illustrated Glossary, Media Clips, reference material, several solar resources.
Access to ImagineSolar's online training site containing lessons, video lectures, slideshows, quizzes and additional materials for 6 months.
Free access to ImagineSolar's Webinar Series.
After completing this course, you will be eligible to sit for the NABCEP Entry Level Exam. When you are ready, you may take the exam with ImagineSolar, or at any one of the many Prometric computer-based exam centers across the USA. Click here to purchase the NABCEP Entry Level Exam. Prefer a classroom? Consider PV201.
Upcoming PV201e Course Schedule